Conference: The New Structure Of The Chamber Of Arbitration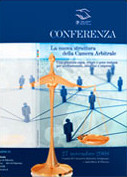 <p">The Chamber of Arbitration at the Chamber of Commerce of Palermo, coordinated by the lawyer Alessandro Palmigiano, organised a conference regarding the process of arbitration. The event was held on November 27, 2009.
The purpose of the conference was to present to the professionals, citizens and companies, the new structure of the Chamber of Arbitration, after the accession of the Bar of Lawyers, Accountants and Notaries. During the conference, the new rules of the Chamber of Arbitration were presented.