Meeting With The City: Self-Protection Of Investors And Savers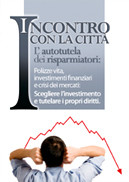 A training course, entitled "The self-protection of investors and savers" was held in Palermo, on March 14, 2009, during which various topics, such as life insurance policies, investments and the impact of the financial market crisis, were discussed, in order to inform investors about their rights and the most appropriate choice in the current economic climate.
"Often consumers and companies acquire financial products and services with well known companies acquiring, funds, securities or other investments, assuming that they will be safe ones, however, this is not always the case and may result in loss or damage. For example, the product known as an 'Interest Rate Swa'p has been introduced by certain investment companies, in order to insure mortgages, but the results have been disastrous for consumers. After the crisis of Lehman Brothers and other financial giants, the global financial system was completely overturned. We've assisted the large banks with bailouts, without which the current financial situation would have been even more serious in its effects. Considering also cases of failed investments with a broad-reaching effect, such as the Argentinian financial crisis or that of Parmalat, the effect of the crisis is far-reaching, both – due to the amount of money invested and the characteristics of the investors: not only those small investors with little market experience, but also touching upon larger and institutional investors ; with an expert knowledge of the financial market. Hence, the first meeting with citizens, was organised in order to provide simple "instructions for use" to assist consumers in surviving the market crisis. This event was an open event and provided information firstly about prevention and avoiding pitfalls, guiding potential investors in financial products, services and financial broker choices. Secondly, information about subsequent protection if a bad investment has been made – the methods, tools of protection and principles of compensation for loss and damage – " according to" the lawyer Alessandro Palmigiano.