The 3rd Seminar On "Consumer Protection"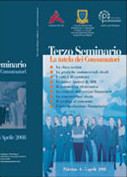 Palermo, April 4-5, 2008. The Palmigiano Law Firm, the Interdepartmental Centre of European and Comparative Studies of the Political Science Faculty, University of Palermo, and the Rosselli Foundation organised an interesting initiative: the Third Seminar on Consumer Protection, which was held in Palermo, April 4-5, 2008.
The seminar involved hundreds of diverse professionals, legal representatives of companies, lawyers and accountants, wanting to acquire a thorough knowledge of the new consumer protection legislation from speakers with a significant professional expertise in this field.
For this reason, the seminar contained practical information – analysing not only the substantial law, but also the jurisprudence. The speakers of the seminar comprised a diverse mix of university professors, lawyers, judges and other experts in the field, in order to maximise the usefulness and practicality of this Seminar.
The Seminar was also publicised and followed by the national press.