Training Course: The Arbitration Process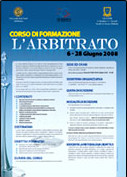 The Chamber of Arbitration of Palermo, coordinated by the lawyer Alessandro Palmigiano, collaborating with the Interdisciplinary Centre for European and Comparative Studies of the Faculty of Political Science, University of Palermo, organised a training course for arbitrators.
The course was held at the Chamber of Commerce of Palermo, on June 6-28, 2008.
The course involved professionals in legal and economics fields, such as attorneys, company lawyers, accountants and auditors.
The purpose of the course was to provide theoretical and practical information regarding the Arbitration process, in view of recent legislative developments.
To ensure this dual – theoretical and practical approach be adopted, the lecturers of the conference were both university professors and professionals with many years of experience in the field of national and international arbitration.