The Charter of Tourist Rights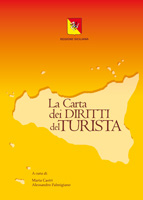 The Charter of Tourist Rights, financed by the Region of Sicily as a part of the General Programme 2009/2010, has been carried out by the Foundation for the research "Rosselli". Italian attorney Alessandro Palmigiano, specialises in consumer rights law and has been supervising its preparation.
The Charter refers to a citizen-tourist, where he/she can easily find the simple and clear answers to his/hers issues and queries, from tourisst'rights in air, rail and sea transport, package holidays, insurance policies and health care.