Conciliation And Consumer Law Protection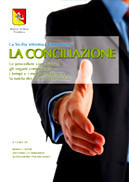 Project "Sicily informs" Financed by the Sicily region within the framework of the general project "Sicily informs consumers". Compendium of European, national and regional laws regarding consumer protection, with special focus on ADR.
Publication of a brochure on conciliation for distribution to Sicilian consumers.
A compendium of case law on consumer protection of the last decade of Sicilian courts.